Large Animal Infusion Sets
Completely integrated animal infusion systems providing maximum procedural flexibility and precision. Large Animal Infusion Sets may be purchased complete or as individual components and are also available pre-sterilised.
Swivels
Single-fluid channel models made from high-impact plastic or stainless steel in standard gauges (16-20). Double and triple channel models for simultaneous applications are fabricated from high-impact plastic with 17 to 20 gauge channels. All large animal swivels are supplied with a "C" clamp and designed for repeated use.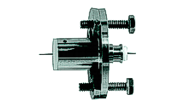 Tethers
Constructed from flexible interlocking stainless steel. Machined aluminum end pieces are secured to swivels and end-plates by two set screws. Allows for ease of movement by the subject while eliminating interference and damage to the catheter. Tethers are available in three regular diameters. Standard lengths range from two to four feet, with other lengths available by special order.
End-Plates
Machined from a single piece of stainless steel for a durable and reliable connection to a reinforced anchor point on the jacket.