Cozee Pad® – Floor inserts for wire cages
Rodents maintained long-term in wire bottom cages have the potential to develop lesions on their paws. The LOMIR Cozee Pad® is designed to reduce this problem.
The Cozee Pad® is a dual purpose device. When placed on the floor inside the cage provides a secure location preferred by rodents, while the plastic retains warmth and may also be chewed by the animal.
Manufactured from polypropylene sheet that is FDA and USDA approved, making it safe to ingest. Edges of the floor are rounded for safety and may be sanitize in either a cage wash or an autoclave.
In addition to providing a resting place, the Cozee Pad® is safe to ingest and doubles as a chew device allowing the animal hours of natural gnawing activity which can reduce the need for teeth clipping.
The natural insulating properties of polypropylene mean that the floor is an enhanced location for the animal, in particular after procedures such as anesthesia or surgery where maintenance of body temperature is important.
Cozee Pad® can also be treated as a disposable item.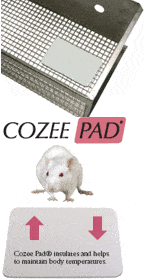 Gnaw Pucks® – Chewable pucks for rats and mice
Rodent Gnaw Pucks® are available in two sizes for both rats and mice. Manufactured from a solid nylon material that is FDA and USDA approved, making it safe to ingest.
The knurled edge of the Gnaw Pucks® gives the animal a slightly rough edge to gnaw upon. The rat and mouse sizes allow for extended periods of gnawing and chewing, reducing the requirement for teeth clipping. Nylon is a highly inert material; pucks may be sanitized in a cage wash, autoclave or chemical solution.
Independent certificate of analysis to support GLP compliance. Cozee Pad® and Gnaw Pucks® are registered trademarks of LOMIR Biomedical Inc. All rights reserved. 2004.

100% Aspen Enrichment Products
100% Aspen Enrichment Products are made for rodent and small animals that you may have in your experiments.
Aspen wood is white, and it is soft, but fairly strong. Also, this type of wood is considered to be non-toxic because there is no phenol that can emanate. Because of that, it doesn't cause respiratory ailments.
We propose panoply of products that can be useful in your different experiments: chew stick, tube, tunnel, labyrinth and mouse house.
For use in GLP Laboratories; a certificate of analysis performed by an independent laboratory is available on request.