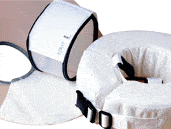 Lomir collars are designed and manufactured to reduce or eliminate many of the factors which can compromise investigations. In protecting sensitive equipment and reducing discomfort and stress levels for the subjects, this comprehensive range helps to protect the integrity of a wide variety of procedures on all laboratory animal species. A large range of standard sizes are available with other sizes, for special needs, made to order.
Elizabethan
Elizabethan Collars prevent animals from self grooming, and protect surgical or treatment sites. All collars are manufactured from a low density polyethylene and close with ample Velcro fasteners, providing adjustable and secure fit for individual animals. Neck openings are bound with cotton jersey for comfort.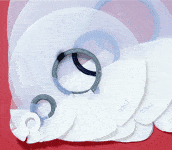 Cervical
Cervical Collars offer an alternative to Elizabethan Collars, allowing the animal unrestricted vision.

Pillow
Pillow Collars are designed for use in a wide range of applications:
May be used in combination with an infusion jacket
For protection of devices such as infusion pumps
For protection in post surgical or treatment situations
Made from durable, washable canvas and available with optional fasteners for jacket or harness attachment. A special feature is the removable foam pillow insert.
Available in white or black in a comprehensive range of sizes with custom models made to order.