Comfortable Stress-Free Restraint
for Your Protection… and Theirs
A stable immobile and comfortable subject is a key component of any investigation or procedure involving large animals. The innovative Mobile Restraint Unit embodies the most efficient incorporation of all the necessary features. Combined with quality materials and LOMIR's attention to detail and workmanship, this device is unique in providing humane immobilization for the animal and efficient, safe, working platforms for the handler. Special Requirements? While our inventory of frames and slings will answer the needs of most customers, LOMIR is fully equipped to fulfill orders requiring the fabrication of custom-made units for special situations or tasks.
Frame construction
Deep "V" opening in frame for unimpeded access to the head of the animal
Low cross members and deep opening for minimum lifting height and easier positioning of animal
Sling Support bar extenders for lifting. Removable to facilitate access to the animal during procedure and prevent snagging during movement
Available in a range of sizes. Constructed from precision welded 1″ square tube stainless steel stock for lightness and strength
Self-locking, quick release cleats for limb ropes at each corner
Lower sling support bar brackets for easier access
Locator pins on all corners to adjust sling support bars
Corner posts on heavy duty castors with ball-bearing pivots, two with foot activated brakes
Sling construction
Basic construction of robust, washable canvas type material
Wide reinforced side tubes for easy insertion and removal of adjustable side support bars
All leg and waste apertures edged in cotton jersey for additional comfort
Nylon webbing sewn in at key points throughout for additional strength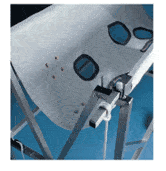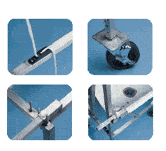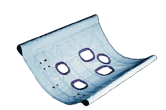 Humane, user-friendly, portable restraint developed in partnership with Panepinto Associates for your micro/minipigs, dogs, goats, lambs and other small to medium sized animals.
Truly portable the complete sling ships in a carton 40″ x 10″ x 6″ weighing 20 lbs so it can be shipped inexpensively using your preferred courier service.
The Portable Panepinto sling is supplied with instructions for assembly, storage and handling.
Frame construction
Deep V shaped openings at the front and back for unimpeded access to the animal allowing of easy sampling or instrumentation. Set up and dismantling is simple requiring no tools. Clevis pins lock the frame in place, for storage either fold closed and hang on hooks or use the storage bag, included with your purchase.
To maintain a light weight with maximum strength the frame is constructed from square tubular stainless steel. The sling is manufactured from a robust coated canvas fabric. The sling is machine washable. All openings on the sling are trimmed with a cotton jersey fabric for comfort. Velcro straps closing over the back provide for quick and secure restraint while maintaining adjustable fit for individual animals.
As with all Lomir products we manufacture the most complete range of sizes selected according to the type and weight range of your animals, customers always have the option of custom-made covers these options can even extend to color-coding.