Our Custom Design and Manufacturing Process
Jackets for Laboratory Farm Animals
Farm animals and other large mammals are used in biomedical research with objectives that include the development of new medical devices. As the manufacturer, Lomir can design and produce jackets that are matched to specific protocols, thus allowing customers to order garments that meet their unique needs. The term "Farm animals" commonly refers to sheep, goats, calves, swine and more.
Lomir has in-depth experience in designing systems for the diverse range of farm animal species. Special features can be integrated for specific strains of subjects, as well as their age and weight ranges. For instance, spandex panels will accommodate increased body weight in fast growing animals. You may also find that our extensive set of patterns saves you the need to provide physical measurements. If this is not the case, download measurement sheets
here
.
To meet your research requirements, the Lomir team will collaborate with you. In the past, we have successfully worked with various companies on the development of very special models. this approach working with us has proved successful for our customers particularly in the areas of medical devices where new manufacturing techniques like rapid prototyping and additive printing have accelerated that portion of the development process and though our responsiveness and adaptability Lomir can be an integral partner for your research. We work closely with your equipment and engineers to make sure our design matches your unique scientific needs. We have the expertise and willingness to make the most of your opportunities. Continued innovation in textiles and fasteners allow for the further development of these garments with examples such as moisture management fabrics to aid in body-temperature maintenance. Design and construction create jackets that are comfortable and well fitting while protecting both the animal subject and the test equipment or procedures. Common customizations include the addition of accessories, such as specially located pockets and fasteners, allowing continuous connections and special access to the equipment, adapting garments to sheep with or without wool, and more. To get a better idea of potential jacket modifications, download our list of customizations here.
To this date, our involvement in farm animal studies includes, but is not limited to:
Toxicology
Ophthalmology
Cardio-vascular research
Xeno-transplants
Surgical modeling
Medical devices
Dermal or Topical applications
The possibilities are endless.
Contact us
and discover how a partnership with us can benefit your research goals.
---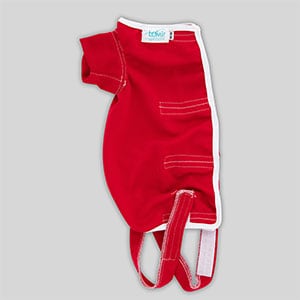 Showing the single result